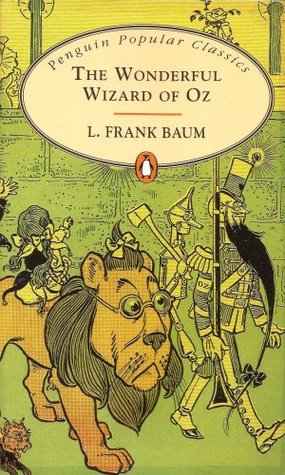 I recently saw a stage production of the Wonderful Wizard of Oz. I had wanted to read the book ahead of time so that I could see the differences between the original story and the stage production. Although I didn't find the book in time, I'm still glad I read it.
A lot of the book is pretty much the same as the stage production, until you get to the end. The end of the book goes on much longer after Lion and Tinman and Scarecrow receive what they're seeking. The wizard gives them a much bigger run around in the book and there seems to be a lot more violence, which is often the irony in fairy tales written for children - except for that lady who wanted to take Toto. I don't remember her in the book at all. The other thing is in the book it wasn't a dream, like the movie or the play...thank goodness! I think that is a pansy way of making sense of a story. I liked that about the book! Also, Dorothy wears silver shoes in the book, not red. There seem to be a lot more witches in the book. I couldn't keep them straight. Every point on the compass has a witch, it seems. I also couldn't keep track of all the places in Oz in the book. Mifkets? Merryland? The Land of Ev? They were also things I couldn't really keep in my head.
I'm glad I read the book.
Good reads says:
HarperCollins is proud to present its new range of best-loved, essential classics.'"Come along, Toto," she said. "We will go to the Emerald City and ask the Great Oz how to get back to Kansas again."'Swept away from her home in Kansas by a tornado, Dorothy and her dog Toto find themselves stranded in the fantastical Land of Oz. As instructed by the Good Witch of the North and the Munchkins, Dorothy sets off on the yellow brick road to try and find her way to the Emerald City and the Wizard of Oz, who can help her get home.With her companions the Scarecrow, the Tin Woodman and the Cowardly Lion, Dorothy experiences an adventure full of friendship, magic and danger. A much-loved children's classic, The Wizard of Oz continues to delight readers young and old with its enchanting tale of witches, flying monkeys and silver shoes.