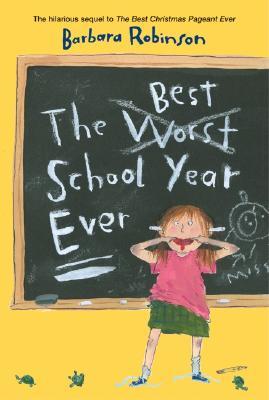 I came across this book by chance. I read The Best Christmas Pageant Ever and loved it. I have always wanted to do it for grade 3 book club, but I figured the slang on the real Christmas story might not fly very well with everyone in school. This one has the same hilarity and would totally work for grade 3 book club! It even has a bit of character attached to the story with the teacher's year long assignment to make a list of positive traits about everyone in the class.
This book reminded me of sitting around listening to my aunt and uncle and their kids talk about funny stories in their insurance adjusting business.....matter of fact stories with hilarity attached.
Goodreads says:
The Worst Kids in the History of the World!
When anything goes wrong at Woodrow Wilson Elementary School, from the hexing of Bus Six to the mysterious disappearance of the kindergarten gerbil, it's sure to have a Herdman behind it. The Herdmans are more than famous -- they're outlaws. They smoke cigars, lie, and set fire to things, and that's only when they bother to come to school!
Then a school project forces the students to think of compliments for all their classmates -- including the Herdmans. Is it possible that behind their outrageous pranks there may be something good about this crazy clan after all?