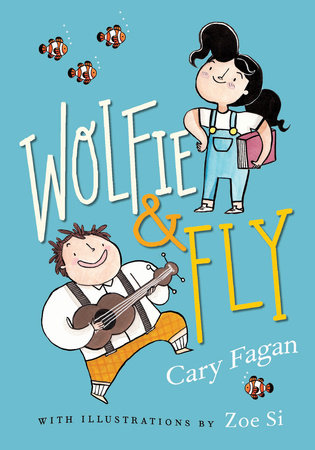 I loved the main character, Renata Wolfman (also known as Wolfie). She's an independent kid who doesn't need friends for approval or for fun. However, she does end up in some interesting situations iwth her neighbor, Livingston Flott, also known as Fly. I can see these two having a lot of interesting adventures together. Looking forward to reading more!
Goodreads Summary:
A classic story of imagination, friendship, adventure and speeding through the ocean in a cardboard box. For fans of Ivy & Bean, Judy Moody or Nate the Great.
Wolfie and Fly
is an early chapter book at its simplest and best. Our heroine, Renata Wolfman (Wolfie) does everything by herself. Friends just get in the way, and she only has time for facts and reading. But friendship finds her in the form of Livingston Flott (Fly), the slightly weird and wordy boy from next door. Before she knows it, Wolfie is motoring through deep water with Fly as her second in command in a submarine made from a cardboard box.
Out on a solo swim to retrieve a baseball vital to the mission, Wolfie is finally by herself again, but for the first time, she finds it a little lonely. Maybe there
is
something to this friend thing...